Confusion, The rest
New
Male nude, face and arms. Art photograph realized with Dylan.


Availability date:
Description
| | |
| --- | --- |
| Numbered works, limited: | 5 originals |
| Photographic Techniques | Black and white HD printing / Bichromate gum |
| White border around the photography | 5cm |
| Papers | Paper of engraving 340g Hahnemühle® / Baryte paper |
| Photographic Themes | Portrait / Human |
More info
Male nude, face and arms. Art photograph realized with Dylan. The bichromate gum mystery lies in the four fundamental elements: ground (pigments), fire (UV radiation), water (shedding) and air (drying). Once the summit is reached, I can savour the joy of having my senses soothed.
Photographer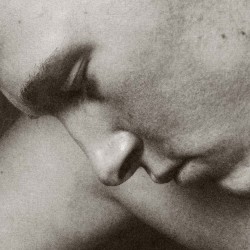 Bert Van Pelt
In the series "Confusion", he created a universe in which bodies of flesh and marble merge together. The meaning given by the sculptor is twisted towards beauty and desire. Confusion increases thanks to a technique of pigmentary printing. The artist is not searching for the perfect body, it is just the opposite. The wear of the stone and the imperfections of the human body unite both subjects so that they become one.
The artist is currently working on a project called "Frames". It involves pictures with double framing. Naked bodies pose with geometric shapes which work as first frame. The second frame is the lens of his camera. The poses of the bodies are in perfect harmony with the geometry of the shapes. Sternness and strength are opposed to softness.
The gum bichromate process is an integral part of the artist's work. He has been putting a lot into this little-known photographic printing process of the 19th century for several years. The result of this process brings materials to life and creates the illusion of a 3-D image that is so much sought-after in contemporary photography.
The photographer reinvents standard photography by expressing himself with a minimalist and aesthetic style. Robert Mapplethorpe's work is his main inspiration.
Bert Van Pelt was born in Mol, Belgium. He is a photographer living and working in Liège. He has been working on the human naked body for several years.
Photographic career
July 2017: collective exhibition at the Arles Gallery for the Festival Voies Off in Arles, France
April 2017: 3rd price of the photography competition "Nu et Modernité" organized by the Festival Européen de la Photo de Nu and the magazine Réponses Photo
October 2016: demonstration of gum-bichromate printing for the festival Les Saisons de la Photographie in Soumagne, Belgium
May 2016: lecture about the project "Confusion" for the Journées Européennes des Ecoles de Photographie in Paris
September 2015: collective exhibition at the Museum of Contemporary Photography Ken Damy in Brescia, Italy
September-October-November 2015: exhibition "Naked Box" at Philippe & Partners in Liège, Belgium
February 2015: participation in the Journées Européennes des Ecoles de Photographie in Paris
September-October 2014: collective exhibition "Errances" at the Duesberg complex in Verviers, Belgium
May-June 2014: collective exhibition "Des hommes et des terrils" at the Maison des Terrils of St Nicolas, Liège, Belgium
March-June 2014: collective exhibition "BIP OFF" at TALP in Liège, Belgium
April 2014: exhibition for the Teaching of photographic art competition in Namur, Belgium
January 2014: exhibition "Waking Up" at the multimedia library of Verviers, Belgium
October 2012: collective exhibition "Des terrils et des hommes", opened by "Priorité à l'ouverture" at the Galerie Ouverture in Liège, Belgium
June 2012: artistic event "Troc' Art", MAMAC Liège, Belgium
June 2012: collective exhibition "Nuits du paradoxe", Liège, Belgium
2012-2016: followed photography courses at the Académie des Beaux-Arts de Liège, Belgium
June 2010: photo screening for the "Ciné Quartier" event in Sclessin, Liège, Belgium
January 2010: collective exhibition "Sclessin au quotidien" organized by the cultural centre "Ourthe et Meuse" in Sclessin, Liège, Belgium
2008-2015: "Parcours d'artistes" during the Festival des Arts in Cointe, Liège, Belgium
19 other works by the same photographer